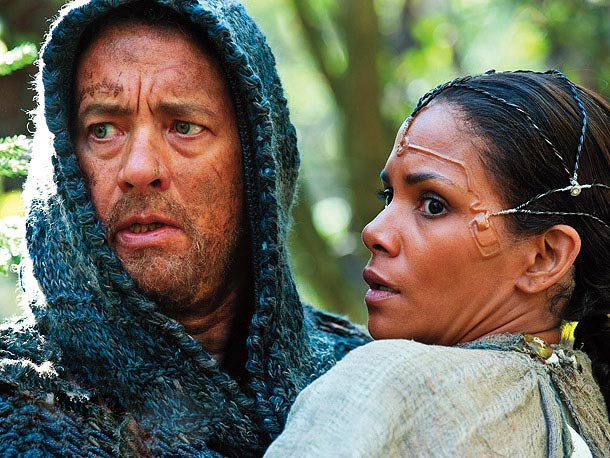 Director(s): Andy & Lana Wachowski, Tom Tykwer
Runtime: 172 minutes
In an age when Hollywood has become increasingly prone to loud, mindless blockbusters and endless sequels, you have to admire the amount of faith that went into Cloud Atlas. Based on David Mitchell's acclaimed novel, this massive (in scope and in length) adaptation is the sort of ambition Hollywood ought to aspire to more often. Even if, as is the case here, the final product is neither a mind-blowing masterwork or a total train wreck but rather a well told story that works better narratively than emotionally.
As far as plot is concerned, Cloud Atlas has plenty, though it ultimately boils down to six main threads. Among them are a journalist's investigation of a shady nuclear power plant, a young musician's relationship with a famous composer, and a clone in the far future who gets dragged into a rebellion. How these, and other, stories link together is a matter of echoing dialogue, images, and sounds. Oh, and there are also very literal links as well. Whereas Mitchell's novel unfolded as a nesting egg of sorts, directors Tom Tyker and Andy and Lana Wachowski (the newly monikered Wachowski Starship) have strung the six major segments together as simultaneous narratives.
And, on the filmmaking level, it's impossible to deny the effort that the directing trio went through in order to bring Mitchell's novel to life. Each segment is well told, and though the genres range from sci-fi adventure to goofy comedy, they are strung together with such smart organization that changes from story to story are rarely, if ever, off-putting. Above all else, the true hero of Cloud Atlas isn't one of its dozens of characters, but rather editor Alexander Berner. The task before him had to be nothing short of monumental, yet he has turned the massive collaboration into a fluidly organized film, that not only runs upwards of three hours, but also tells some of its individual stories out of order.
Berner aside, technical prowess abounds in the film. Costumes and set design nicely recreate past worlds while also birthing new ones, while the cinematography captures each genre with lighting to match. There's also the quietly building score, courtesy of Tykwer, Johnny Klimek, and Reinhold Heil. Like some of the collaborations between Kieslowski and Preisner in the late 80s and early 90s, some of the music plays a major plot point across narratives, and this composing trio have crafted a nicely affecting set of recurring musical themes that carry the massive narrative with grace, rather than with overcompensation.
Of course, there's also the make-up. Many an actor has transformed him/herself with make-up and prosthetics, but never like Cloud Atlas. Every major player in the ensemble undergoes radical transformations across segments that include changes in race and gender. Part of the fun of the experience is figuring out who's who. Whether or not Cloud Atlas succeeds in being mindblowing as a whole is debatable but I'd be hard-pressed to find someone not won over by the extraordinary efforts of the hair and make-up teams.
Before I forget, however, there are actually people doing interesting things infront of the camera as well. Though some members of the ensemble are more prominent than others (Susan Sarandon feels largely underused), the cast is generally a marvel. No individual flies far ahead, but the performances all register nicely. Near the top of the crowd are Doona Bae, most prominently featured as a clone named Sonmi-451, and Ben Whishaw, best utilized as a struggling gay composer. Tom Hanks also surprises, in roles that range from cartoonishly evil to tenderly sincere. With so much ground to cover, the performers have few notes to play, though they hit them more often than they miss.
But looming larger than any character (or prosthetic nose) are Cloud Atlas's ideas. The idea that "everything is connected" has certainly be done before on film, but perhaps never on such a ludicrously large scale. To meld time periods and genres in pursuit of grandiose New Age wonderings is the sort of philosophical undertaking that could easily sink a film. How well it succeeds is somewhat difficult to describe. The connections between and among segments are often beautifully handled, never spelling things out so much as finding elegant and entertaining links to and from the various stories. Though separated by decades and centuries, part of what works in the film is that the connections evolve and deepen as time progresses. If Mitchell's novel was set up as a Russian nesting doll, then this adaptation is more akin to a very large jigsaw puzzle.
The inevitable drawback, however, is that with so much work put into simply telling the stories, there isn't quite enough room for the film to come together at the end. Each story has its own progression and arc. Each story has heroes and villains. But even as the pacing escalates up and down throughout the final hour, Cloud Atlas ends more with a whimper than with a bang. Moments that could elicit either immense awe or deeply felt sadness instead connect on a much more shallow level. Plot and construction are a critical part of the story's overarching themes, but in the transference to the big screen, the human element hasn't translated as fully.
The most immediate comparison I can make is Darren Aronofsky's The Fountain (2006). Despite being half the length (and also containing only three story strands), it's an equally ambitious film. And despite the differences in length and number of characters, both films work on certain levels, but are held back by certain deficiencies. For Aronofsky's film, it was the narrative and thematic elements that felt incomlpete, whereas in Cloud Atlas, it's the characters. Both weaknesses prevent the films, despite their strengths, from reaching their (insanely high) potential.
I have no doubt that many will disagree. Like The Fountain, Cloud Atlas is likely to be the love it/hate it film of its year. Yet once again I find myself in the curiously small middle ground. I merely liked and admired what the Wachowski's and Tykwer created. At the very least they succeeding in telling six engrossing stories - non-sequentially, mind you - over the course of three hours. In an age where big studio projects are built increasingly to move fast, be simple, and make money, Cloud Atlas is something of a relief. As A.O. Scott of The New York Times put it in his review, this is "the most movie" you can get for your eight (ten? twenty?) bucks. Yet considering how much "movie" I got from Cloud Atlas, it's hard not to be left a little wanting. That this film exists is something of a miracle in this day and age. A shame that it exists and only partially succeeds in reaching its lofty goals, which are left floating somewhere up in the stratosphere.
Grade:
B